Sterling Custom AR Gallery
Zombie Killer!
This project AR was completed as a Christmas Gift and we had fun test firing it beforehand! A Zombie Killer! It has the CCA polymer sights, with the Hogue stock and softgrip and a ‪Diamondhead rail VRS-X 13.5″ free float handguard. The operator contour match grade stainless carbine barrel sports a Hawk Hill Custom muzzle brake. We really like these muzzle brakes. They work just as well as any of the high dollar brakes in the market and retail for a lot less.
The "Twins"
Custom built Varmint Slayers cerakoted in flat dark earth. Hawkhill muzzle brake, diamondhead rail, Magpul ACS stock, Troy Industries sights, Ergo grip and BattleRifle Company barrels.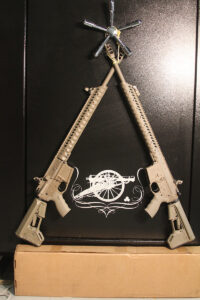 The Transformer
Another new build we are excited about. Please meet "The Transformer". This is based on an AR15 platform with interchangeable uppers. The lower sports a #Magpul ACS stock and trigger guard, FAB Defense magwell grip, WMD nickel boron bolt carrier group, Ergo grip. The carbine upper utilises a stainless steel Operator Contour barrel, Midwest Industries Ultralight M-Lock rail, #Hawkhill Custom muzzle brake, CCA polymer flip up sights, Vortex Optics Strike Eagle and 3″ offset mount, Fortis vertical grip, #Streamlight TLR-1 light. The shorty upper sports a DiamondBack 10.5″ barrel, Fortis short angled grip, Precision Armament EFAB Hybrid muzzle brake, Bravo Company Ambi charging handle, WMD nickel boron bolt carrier group, Midwest Industries 9″ Light M-Lock rail, Troy Industries flip up sights, Eotech optics. All with a matching custom finish camo pattern.
Other AR Builds
Custom Cerakote AR-15
Custom AR-15 build out
Sterling Custom lower, Aero NIB BGC, AXTS Raptor ambi charging handle, #Magpul stock & flip up sights, Ergo grip, Hanson .625 barrel, Armalite rail and muzzle brake, Tac-Con trigger, PDQ ambi bolt release, Norgon ambi mag release, #Trijicon red dot, burnt bronze #cerakote.